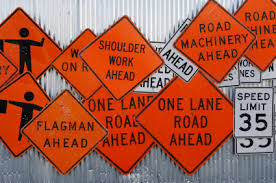 "Construction Work Ahead" signs are being set up today (1/11/18) on SR149 in Jensen, Utah, aka the "Quarry Road", meaning the road from the Jensen, Utah corner on US40 to Dinosaur National Monument… the Utah side of the monument.
Drivers should plan on extra time to get to the "Quarry" as the road will be narrowed to only one lane over the Brush Creek bridge. A stop light will be installed to control traffic over the one-way bridge.
The bridge is scheduled to be finished by May 1, 2018, and the road widening and improvements should be finished by early-mid summer, 2018, we hope.
Bicyclists should be aware that road widening and shoulder work is going to mess with how much room is available for riding. It should be really nice when it's all done!