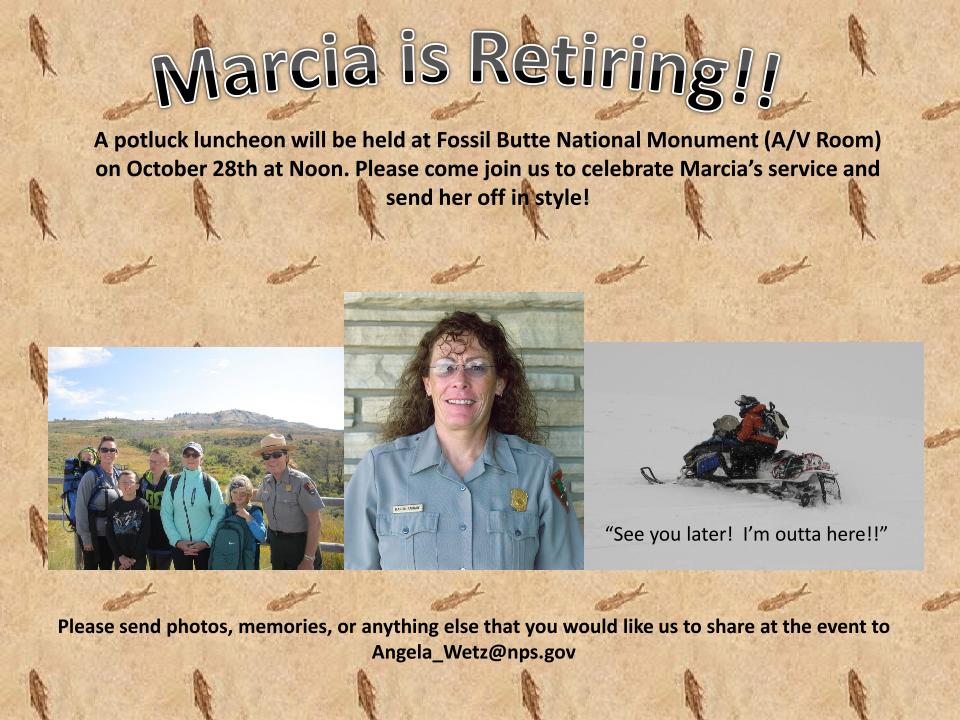 Marcia Fagnant, lead interpreter at Fossil Butte National Monument, will retire October 30, 2016 after almost 30 years with the National Park Service. She began her NPS career at Redwood National Park as an intern interpreter. After a few years of teaching and coaching in public schools, she moved back to Kemmerer, Wyoming her home town and home of Fossil Butte National Monument.
Marcia started her career at Fossil Butte in May, 1987. She worked as a seasonal park ranger (interpreter) in a double-wide trailer – the park's first visitor center. The visitor center displayed only thirteen fossils and was open May to September. As Fossil Butte grew to what it is today, Marcia wore the hats of museum technician, permanent interpreter, law enforcement ranger, wildland fire fighter and finally, lead interpreter.
One of her early projects was documenting the life and story of the now ghost town Fossil which lived in the shadow of Fossil Butte. Her interviews with many of the town's former inhabitants were compiled into a publication called "Fossil, Wyoming: A Trip through Time and Memories." Marcia was also a vital team member in planning the new and current visitor center, providing interpretive information and making connections with the local community. She made a significant contribution to a combined fossil park brochure that included Fossil Butte, Florissant Fossil Beds in Colorado and Agate Fossil Beds in Nebraska.
Marcia's education and training as a teacher served the park well. Passionate about connecting the park and its story with young people, she developed special programs for children including a Jr. Ranger Program, a "Fossil Discovery Kit" to send to classrooms nationwide as well as overseas, and a hands-on activity area in the visitor center for everyone to try fossil rubbing, and fossil preparation.
Embracing the principles of Freeman Tilden, Marcia passed her interpretation wisdom on to innumerable Fossil Butte interns, volunteers, seasonal guides, and permanent staff. For decades she coordinated with The Student Conservation Association to host and nurture the next generation of interpreters from around the world. Marcia's natural talent for interpretation was recognized in 1994 when she received the Rocky Mountain Region's Freeman Tilden Award for Excellence in Interpretation.
Marcia loves the outdoors and always volunteered for jobs others shied away from such as checking the spring that provides water to the visitor center, sound monitoring in the harsh winter months, observing wildlife and natural resources, and providing critical assistance during the three-year USGS/NPS elk-collaring project.
Marcia's dedication and contribution to Fossil Butte National Monument is a lasting legacy. She leaves big hiking boots to fill. Thank you for your commitment to the park, Marcia, we wish you a happy retirement!